Skip to Content
CEO Group Member
Will Gruccio is being honored Friday October 25, 2019 at The Grove at Centerton in Pittsgrove NJ.

CEO Charitable Recipients
To underscore its commitment to the Community, the CEO Group, since 2010 has had an annual golf tournament to benefit local charities. The following Cumberland County charities have received contributions from the CEO Group;
November 2018: CEO Group Board of Trustees donated $5,000 to the Cumberland County M-25 initiative during Facebook "Giving Tuesday".
November 2018: CEO Group donated $500 to Manna from Heaven and $750 to the Salvation Army's "Project Thanksgiving". Both groups provide food for the less fortunate  during the holidays.
2017: Cumberland County Technical Education Center
2016: Family Promise, Steered Straight, The Food Pantry's of Vineland and Bridgeton, Manna from Heaven & Project Thanksgiving
2015: Celebrating Our Veterans, Manna From Heaven & Project Thanksgiving
2014: Cumberland County College – Francis J. Reilly Scholarship Fund
2013: North Vineland Little League's Challenger League
2012: Vineland YMCA
2011: Mr. and Mrs. Germanio Caggia ( food truck for the needy)
2010: The Dream Foundation
2019 Bob McCormick VP/GM of Toyota of Vineland, is pleased to present a check to
M25 Initiative Code Blue for $5000.00
This is achieved through the contribution from the dealership along with the Toyota Motor Sales Dealer Match Program. Receiving check is Robin Weinstein -President & Founder, M25 Initiative, Carlos Mercado -Vice President for Fundraising, M25 Initiative, Carol Musso -Board Member, and Maryam Nassiri -Board Member.
Presentation of $6,000 from the CEO Group to Cumberland County TEC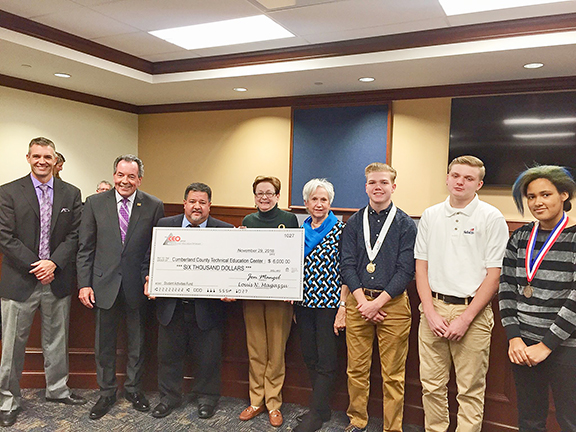 The Mission of the CEO Group is to propose, promote and support efforts to create opportunities, public and private, to enhance the quality of life throughout the region.
Cumberland County Technical Education Center provides each student a pathway into the global workforce with advanced educational options.  Their vision to be the global leader in educating exceptional career and college-ready students.
Cumberland County College
2017 President's Scholarship Awards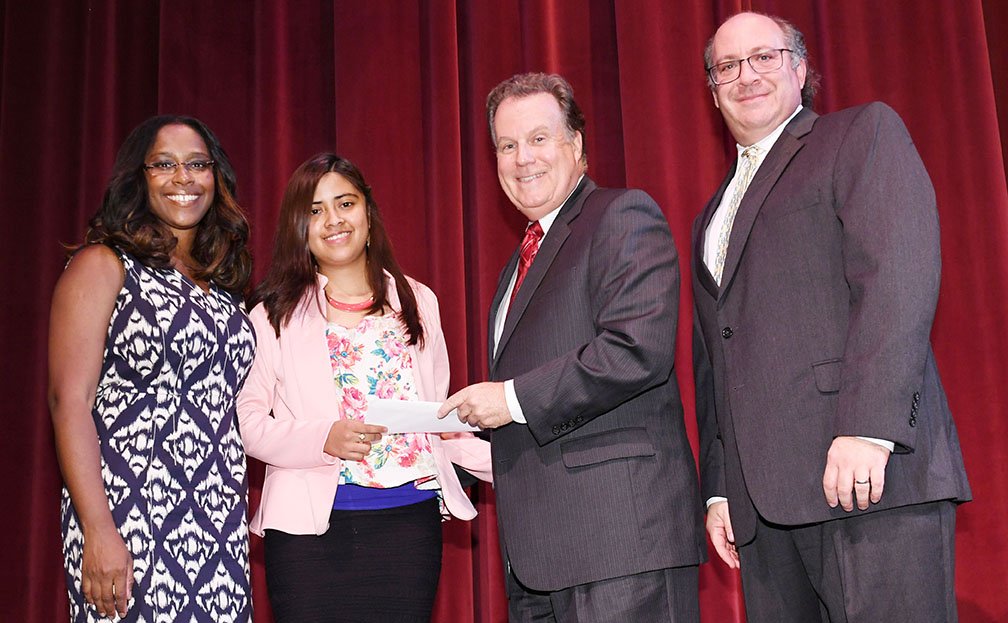 Dinora Angel Ramirez – Recipient of the 2017 CEO Group Francis Reilly Scholarship
Also pictured: Dr. Yves Salomon-Fernandez, President Cumberland County College
Louis N. Magazzu, Executive Director CEO Group, Jonathan E. Mangel, President CEO Group
Cumberland County Tec